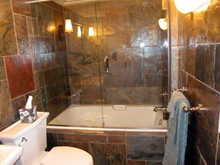 As a homeowner, you are keenly aware of the limitations of your current bathroom. Your bathroom sink is stained from years of use. Your kitchen island is simply too small to be useful. Your kitchen sink is cracked and the garbage disposal is no longer working. You relish in the thought of having a whirlpool tub or Jacuzzi. You want to install a tankless hot water heater to free up space in your home.   Most homeowners browse through design magazines and wish they could redesign their kitchen or bathroom to meet their needs, and be beautiful at the same time. Typically, embarking on such a large project is overwhelming to think about, let alone begin. You are unsure if your budget is enough to even consider the project.  We work inhouse with a create design team and builder Aspen Builders and Remodlers
Rush Point Plumbing takes the guesswork and uncertainty out of kitchen and bathroom remodels. We offer design services in addition to the actual installation of the fixtures.
We have hundreds of plumbing designs to choose from, or we can create something which is unique to your own sytle. We do all the rough-in planning and have catalogues of showers, toilets, sinks, and faucets to choose from.
At Rush Point Plumbing we purchase our fixtures locally from Aspen Showroom located at 1501 Washington Ave S  Minneapolis, MN.
Also, search for Fixtures online at my favorite sites  Faucetsareus.com or Decorativehomesales.com.
Call us at 612-670-4999 for all your bathroom plumbing and remodeling needs!