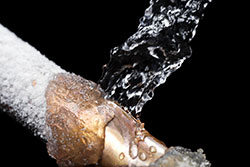 Winter in Minnesota,  causes Frozen Pipes!
Everyone in Minneapolis knows that the winter season in the Minnesota area can be treacherous and cause major damage to property structures. Whether you are a homeowner or business professional, it is important to become educated on preventing frozen pipes.
Why Do Pipes Freeze?

Water is unique. It expands as it freezes. This expansion puts tremendous pressure on whatever is containing it, including metal or plastic pipes. No matter the "strength" of a container, expanding water can cause pipes to break.   Ice can create up to 2000 psi of pressure. Pipes that freeze most frequently are those that are exposed to severe cold, like outdoor hose bibs, irrigation lines, water sprinkler lines, and water supply pipes in unheated interior areas like basements and crawl spaces, attics, garages, or kitchen cabinets. Also, pipes that run in or up against exterior walls that have little insulation are also subject to freezing.
Preventing Frozen Pipes
Before the cold weather hits,  help yourself by  preventing frozen water supply lines and pipes by following these recommendations:
Drain water from water sprinkler supply lines following manufacturer's or installer's directions. It is usually necessary to have the lines blown out with a powerful air compresser.  Do not put antifreeze in these lines. Antifreeze is harmful to the environment, and can dangerous to pets, wildlife, and landscaping.
Remove, drain down , and store hoses indoors. Close inside valves supplying outdoor hose bibs. Open the outside hose bibs to allow water to drain. Keep the outside valve open so that any water remaining in the pipe can expand without causing the pipe to break.  If the shut of valve is a stop and waste valve, open the bleeder to allow air into the system
Check around your home for other areas where water supply lines are located near unheated areas. Look in the basement, crawl space, attic, garage, and under kitchen and bathroom cabinets. Both hot and cold water pipes in these areas should be insulated. A hot water supply line will actually freeze sooner than  a cold water supply line because it contains less oxygen
Consider installing specific products made to insulate water pipes like a "pipe sleeve" or installing UL-listed "heat tape," "heat cable," or similar materials on exposed water pipes. Many of these products are available at your local big box supply stores. Pipes should be carefully wrapped with insulation, you want the  ends butted tightly and joints wrapped with tape. Follow manufacturer's recommendations for installing and using these products.
If you are having an issue with a frozen drain line outside your house there are a couple possible causes.  When there is little snow cover on the ground  and severe cold hits the frost pushes deep into the ground.  Sewer lines are typically installed below frost level,(42″-48″) but that is not always the case.   If you have a toilet that does not seal properly or a drippy faucet, this slow moving water traveling through your sewer line is at high risk of freezing.  Also  new high efficient furnaces create condensate that drip drip drip into a floor drain.  When there is slow moving water running through a pipe surrounded by frozen earth it can create an ice dam inside your pipe and possibly crack or split the sewer line.
If you have an issue related to frozen pipes, contact Rush Point Plumbing immediately to alleviate the potential of further property damage to your home or business.