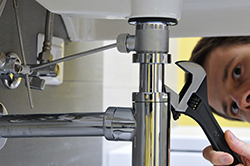 At Rush Point Plumbing specializes in pipe replacement.
Plumbing is all about the pipes.  Water, sewer, and vent pipe.  Over time, plumbing pipes clog,  plumbing pipes corrode and pipes leak.  No body wants a pipe drip that can soon cause a major water damage.
The master plumbers of Rush Point Plumbing have the ability to use several diffent types of piping.  Each plumbing situation is unique and one pipe system may out benefit another.  Rush Point Plumbing can give you our expert advice on which pipe system is best for you.
Old types of Minnesota Water Pipe include Galvanized steel pipe,  Lead Pipe, and Sweat Cooper pipe, flarred soft cooper pipe.
Galvanized pipe corrodes over time. If you have galvanized water pipes in your house there is a good chance they are over 40 years old.  You are running your water on borrowed time. Over time the galvanized or steel water pipe fills with corosion that eventually fills the pipe completely. Also when there is a mismatch of metals in your water system between the brass valves and the steel it causes increased corosion. Whenever steel pipe meets copper or brass, you will see rapid corrosion of the steel pipe. Dielectric unions can be used between copper and steel pipes, however some of these unions will close off flow in a short time.