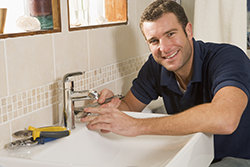 Hello Maple Grove residents and business owners.
Rush Point Plumbing would like to offer the Maple Grove residents the highest quality plumbing service.   As frequent patrons of the shops of Arbor Lakes, Rush Point Plumbing is  your neighbor to the north in  Champlin, MN.   Rush Point Plumbing understands that many residents of Maple Grove are in need of plumbing service at an honest price.    We can provide you with water heater installation, kitchen remodeling, and bathroom remodeling, amongst many other plumbing services.  We would like to be your plumbers for Life.
Rush Point Plumbing offers both commercial and residential plumbing services. We provide qualified technicians and guaranteed work that is absolutely necessary when you need expert plumbing solutions.
All of our work is guaranteed and performed by skilled and licensed professionals. We offer fair pricing and a fast response policy when you call for our plumbing services. At Rush Point Plumbing, we realize that you may have had a bad experience with other plumbing companies, thats why our friendly staff is here to answer all of your questions up front.
Call us today at 612.616.4000 and we will be happy to assist you!